North Conway Vacations Blog - January 2010
21st Annual Chocolate Festival in Intervale, New Hampshire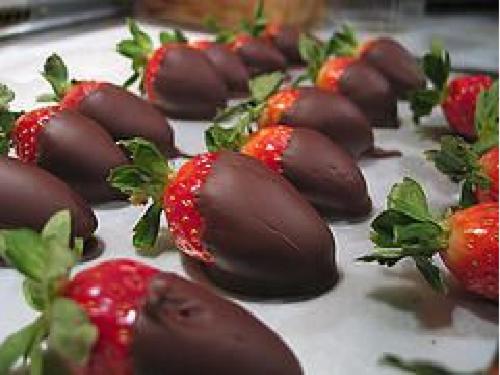 Posted by Rebecca Levitan on Thu, Jan 28, 2010 @ 07:43 AM
Cross-country skiing and indulging in chocolate is just what happens at the annual Chocolate Festival in Intervale on February 28th. This is known by many as the "Sweetest Day on the Trails"! Participate in the Chocolate Festival and enjoy chocolate dipped strawberries, chocolate fountains and fondue, brownies, and chocolate cookies of all kinds. Chocolate delights, scenery, and warm hospitality are waiting to be enjoyed by all!
From 11 A.M. to 4 P.M. participating Inns will be offering chocolate treats as you enjoy a break along the 65KM of trails. It isn't just about cross-country skiing as you can also snowshoe or drive from inn-to-inn. I think that chocoholics will do just about anything to enjoy the chocolate! In addition to the Old Field House, other participating inns include 1785 Inn, Adventure Suites, Eastern Inns, Mountain View Estates, Riverside Inn B&B, Stonehurst Manor, and the Touring Center at Ragged Mountain Equipment.
Festival maps will be available the day of the event and each business will validate your map to confirm your stop. When you have completed the tour, even more chocolate treats will be yours to enjoy. Chocolate Festival passes will be $20 when purchased in advance or $25 if purchased the day of the Festival.
Valentine's Day Romantic Getaway in North Conway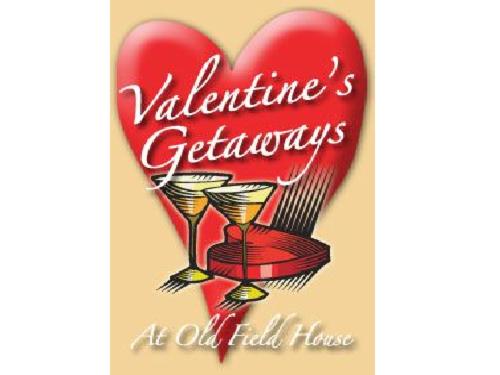 Posted by Rebecca Levitan on Thu, Jan 21, 2010 @ 02:25 PM

Valentine's Day is just around the corner and now is the time to plan for your romantic getaway in the North Conway Area! Grab your sweetie and visit the Old Field House in Intervale, New Hampshire and romance is sure to blossom! Just imagine, a luxurious suite, complete with fireplace and Jacuzzi for two.

Let the romance begin!

The Old Field House will make sure to cater to all of your needs and have a variety of special getaway packages for you to choose from. A soothing massage, a romantic dinner for two, roses, chocolates, or enjoy bath and body treats. Just thinking about it gets my heart pumping in anticipation of a wonderful romantic getaway for Valentine's Day.

In addition to being swept off your feet with romance this Valentine's Day, take advantage of cross-country skiing right from the Inn. Or perhaps you would enjoy a little snowshoeing or a walk in the winter wonderland? If outdoor activities are not on your mind, perhaps a little shopping at the outlet stores in North Conway. Rod or Linea would be happy to provide some shopping tips and coupons for a little extra savings.

Romance at it's finest at the Old Field House! Happy Valentine's Day!!
Snowshoeing in North Conway New Hampshire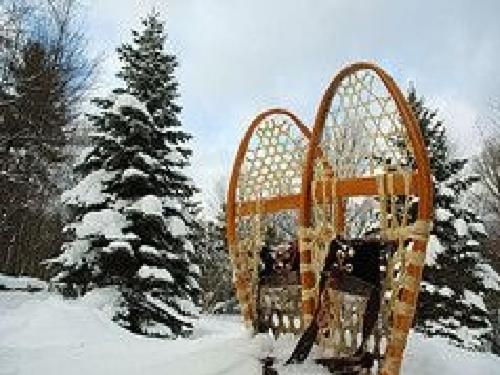 Posted by Rebecca Levitan on Thu, Jan 14, 2010 @ 09:47 AM
Snowshoeing in New Hampshire is a great activity for couples or families! The best part about snowshoeing in New Hampshire is that it is not only cost effective, but snowshoeing is easy to learn and you can essentially go anywhere that you normally hike in the summer! You can just putter around in a field, on a golf course, or snowshoe on trails through the woods. Try a shorter hike to get use to the snowshoes and how they feel on the snow. Once you have your "groove on", go for a little longer jaunts. Just do not get lost!
Snowshoeing has been described a walking with big feet. There are techniques which are effective for climbing hills, breaking trails, and going downhill. Also, many people suggest poles to assist you with your balance. The Mount Washington Valley Ski Touring and Snowshoeing Foundation has great tips for picking out your snowshoe equipment, but you can also just stop at any LL Bean location and they will be happy to help you make decisions on snowshoes.
As with any sport there are always a few dos and don'ts. With regards to snowshoeing they say never to step on your own snowshoe because the results will sort of make you horizontal with the snow! Go forward not backwards as you will dig your snowshoe into the snow and of course, become horizontal again! Lastly, never go straight up or down a hill and always cut across at angles. We do not want your snowshoes to become skiis!
Dress warm and have fun!
Black Mountain Skiing and Winter Fun for the Family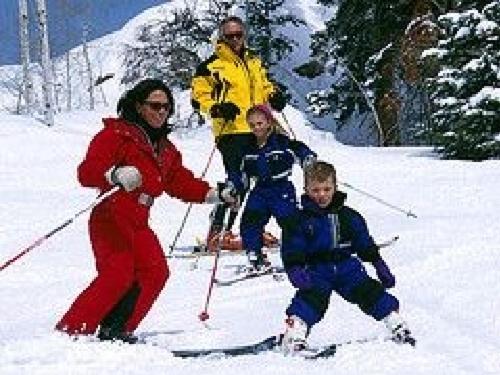 Posted by Rebecca Levitan on Tue, Jan 05, 2010 @ 10:48 AM
Black Mountain is known for its family friendly atmosphere, gentle learning slopes for beginner and novice skiers, and scenic views of Mount Washington. More advance skiers are also challenged by more traditional trails and this makes Black Mountain just about perfect for everyone. Skiing, snowboards, lessons, and race programs are in abundance and ready to be enjoyed by skiers of all ages. However, there is more to do at Black Mountain than just skiing!
Winter events at Black Mountain are in abundance, but we are especially looking forward to the Winterfest and Winter Wildquack Duck Race on January 16th. So what is this all about? It is all about fun! First, they have a step, icy luge track and spend days making sure that it is as icy as it can be. Spectators can buy a duck, a heat of ducks, or as many ducks as they desire! The more ducks you buy, the better your odds are. Consider it getting your ducks in a row. Then the race begins! The duck quacks and hundreds of ducks are released at once in a made dash towards the finish line. The first 10 ducks of each 100 ducks makes it to the finals. Winners get ready, as you will take home 30% of the ticket sales up to $1,000 and over 50 prizes will be awarded to participants. In addition to the race, activities will include pony rides, snow and ice sculpting contents, skiing with the Wild Quack Duck and an Après party.
Winter events at Black Mountain are numerous and include Ride and Ski Weekend Tour, College Break Winter Fest, Shovel Handle Pub Race, and oh yes...chairlift speed dating! I think that you are getting the hang of it, as Black Mountain Inn is all about fun! To make it a little easier, when you stay at the Old Field House Inn you will also be able to purchase your ski tickets at a 50% discount. Here's to winter fun!